Spam protection for WordPress, Joomla, Drupal, and any other websites
WordPress,
Joomla,
Drupal,
No Captcha, no questions, no counting animals, no puzzles, no math. Fight spam!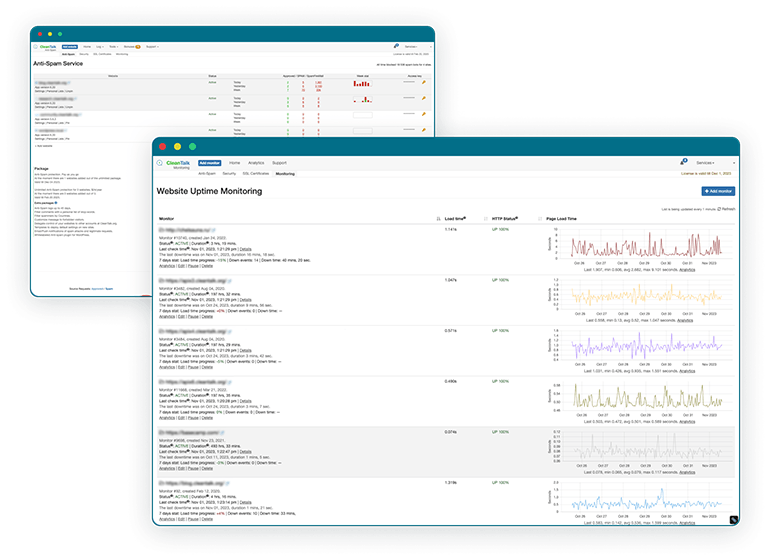 822 000 +
Join more websites are trusting CleanTalk
What we can do for you
Anti-Spam Features. CleanTalk protects your website from spam bots and spam in
Comments
Orders
Widgets
Bookings
Registrations
Contact Emails
And any custom web form
Subscriptions
Checks the existing comments and users for spam
How does it work?
Anti-Spam Features. CleanTalk protects your website from spam bots and spam in
Why CleanTalk?
Growth of registrations/visitors

Convenient registration/commenting forms increase the number of registrations. Real-Time Email Address Existence Validation to increase your conversion rate.

Save time and resources

Our service allows you to focus your time on developing and improving the website and business, without being distracted by extraneous tasks.

Visitor loyalty

Your visitors are more loyal and not annoyed guessing characters or puzzles. They become your regular visitors.

No Captcha, no questions, no puzzles, etc.

CleanTalk eliminates the need for CAPTCHA, questions&answers and other ways which use complicated communication methods for spam protection on your site. Invisible to the visitors, spam protection has a positive effect on the loyalty of the site's audience.

Easy setup

You need only 5-10 minutes to set up the CleanTalk plugin. Every plugin has detailed setup manual with screenshots of each stage of the installation.

Rude words protection for the site

A function of the service is censorship of abusive comments. Messages containing not normative lexicon, cursing and calling for ethnic hatred are automatically sent to manual moderation.
Anti-Spam plugins, API, Libraries, Classes
We provide plugins and API to block forum spam, board spam, blog spam, web site spam with their spreading spam, abusing forms on web sites and other annoyances. We strive to make the Internet more secure and to help webmasters and website owners to prevent malicious activity. We have developed fast and simple plugins for the most popular CMS such as WordPress spam protection plugin, Joomla, Drupal and other plugins. If you get contact email spam, comment, registration or other spam messages, it's time to add spam protection to your website.
Our site uses cookies
We use cookies to provide our services and analyze site usage in accordance with our Privacy Policy. By choosing "Accept", you agree to the storage of all types of cookies used on the site. If you do not wish to use optional cookies, please read our Privacy Policy.