CleanTalk anti-spam setup on MediaWiki
Download the archive.
Unzip the archive and extract Antispam folder to MEDIAWIKI_ROOT/extensions/
Add the following code at the bottom of your MEDIAWIKI_ROOT/LocalSettings.php
 

require_once "$IP/extensions/Antispam/Antispam.php";

 
Fill the Access key in MEDIAWIKI_ROOTe/extenstions/Antispam/Antispam.php
$wgCTAccessKey = 'ACCESS_KEY';
Make a test registration with email stop_email@example.com.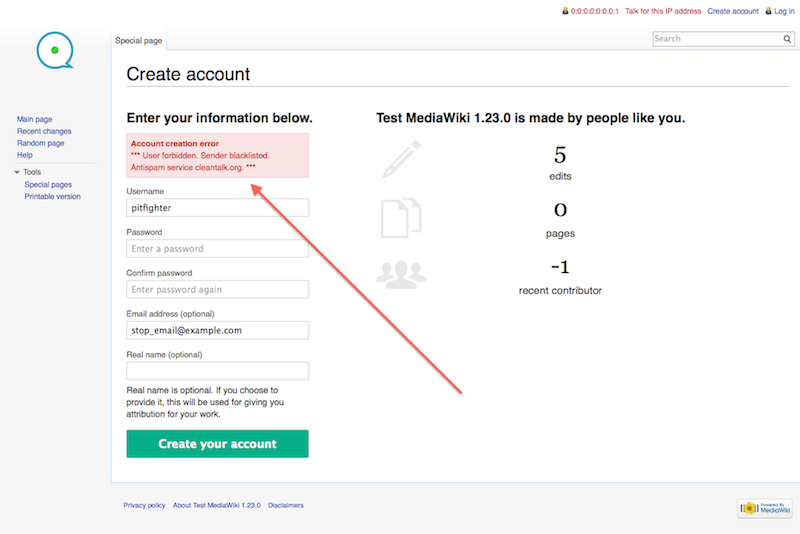 Congratulations. Anti-spam is installed!
CleanTalk SpamFireWall setup
The CleanTalk SpamFireWall manages and filters all inbound HTTP traffic to protect web sites from spam bots and to reduce the load on the web servers.
Open file "/extensions/Antispam/Antispam.php"
Find the parameter: "$wgCTSFW = false" and change setting false on true.
To test if SpamFireWall is working just add /?sfw_test_ip=10.10.10.10 to yorsite name. Example
www.yoursitename.domain/?sfw_test_ip=10.10.10.10 (you must see blocking screen)
Please go to Dashboard to see the anti-spam status, add new websites or manage existing ones!
Please check your email to get account password.