How to Use CleanTalk Plugin Settings Templates
For the WordPress plugin, we've added the possibility to save your plugin's settings in CleanTalk Cloud. Then you can restore them from the template on any of your websites. You can also reset settings to default. This feature may be useful if you want to keep settings after complete deactivation or clone settings between a few websites.
The feature is available after purchasing our Extra Package for Anti-Spam or Security service. Go to your Anti-Spam Renewal Licence Page or Security Renewal Licence Page to see the details.
To use templates please open the Anti-Spam plugin settings (WordPress Dashboard -> Settings -> Anti-Spam by CleanTalk) and press the Import/Export settings button:
1 - Reset settings
2 - Export settings section
3 - Import settings section
To reset settings to default press Reset settings to default button.
To export settings you should create a template first. Enter your template name and press Export settings to selected template. You can create a few templates if you need them.
You can find created templates in your CleanTalk Dashboard here. Templates don't have settings data from the plugin yet.
To send data select your template name from the drop-down list and press Export settings to selected template again.
Then you can see options details in your CleanTalk Dashboard. Press Plugin options Details:
Scroll down to see all options.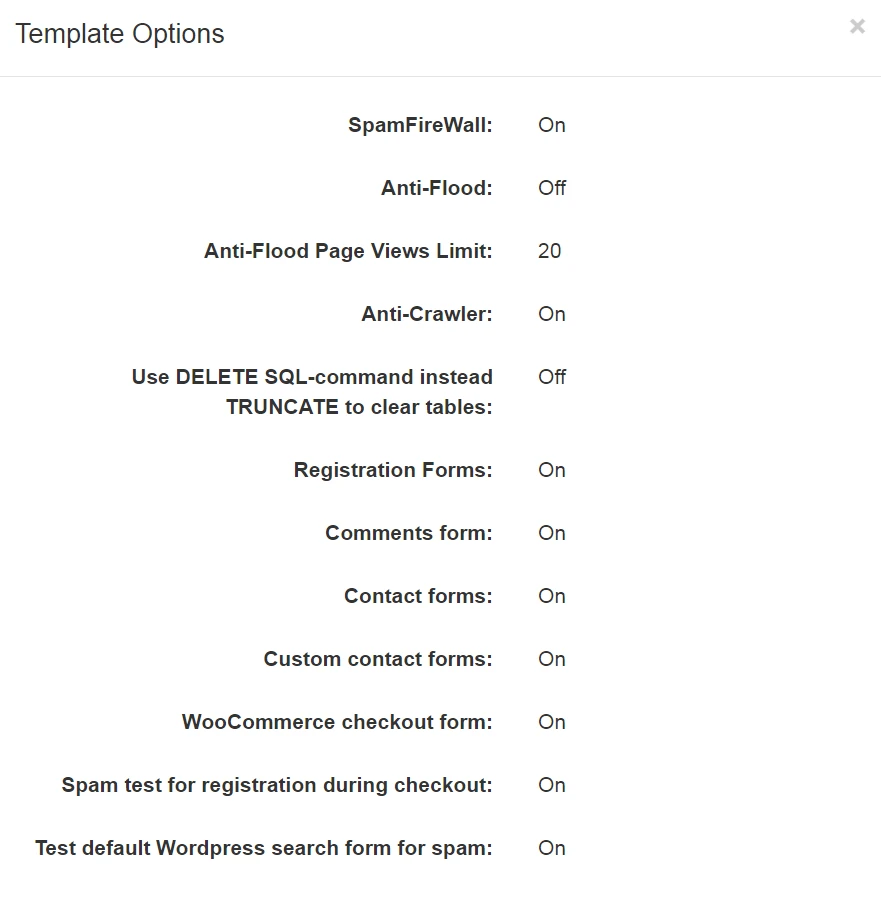 You can read more about the Dashboard Templates here.
Import section will be available after you export settings. To import settings please select your template name from the drop-down list and press Import settings from the selected template button:
If you haven't found the answer to your question, please, contact our support team:
https://cleantalk.org/my/support/open